ACSA: Speculative Practice in Pedagogy
Portraits in Motion



This seminar will focus primarily on teaching students how to digitally model different types of formal and representational motifs with an emphasis on motion and animation as a tool for representation. We will be designing a still life in motion which will help students position and expand their understanding of representational techniques and tools. Students will be introduced to MASH, a plug in for Autodesk Maya that supports the production of motion and gravity in a digital environment. Later in the semester, students will learn how to render animations in AutoDesk Maya using Arnold Render and Adobe After Effects.
More Information




The course will be broken into the following cumulative exercises, culminating in a final 'portrait in motion' of the materials produced. Attendance and participation from 9:00 to 11:30am on Mondays and Wednesdays is mandatory. Students are expected to produce new work every day that rehearses the arsenal of techniques and tools covered in class. No work will be accepted or presented if it's not formatted as required. Students can work in groups or as individuals.

The course will focus on specific assignments. Each student will be required to 3D model objects, animate a scene, and produce a final film/animation at the end of the semester. Each object should have its own texture map, rendering style, and output which will eventually be aggregated into one animated composition.




Woodbury ARCH 565




Instructor: Ryan Tyler Martinez




Students

Anastasia Pozdeyeva
Annie Hetrick
Christian Boling
Cody Carpenter
Fumiya Ishii
Mher Khachikian
Lucas Mok


Mahzad Changalvaie
Maneh Savarani
Nicholas Daniel
Pratik Sutar
Rubi Cardoso
Xavier Chavez
Zhanming Liu



︎︎︎︎︎︎︎︎︎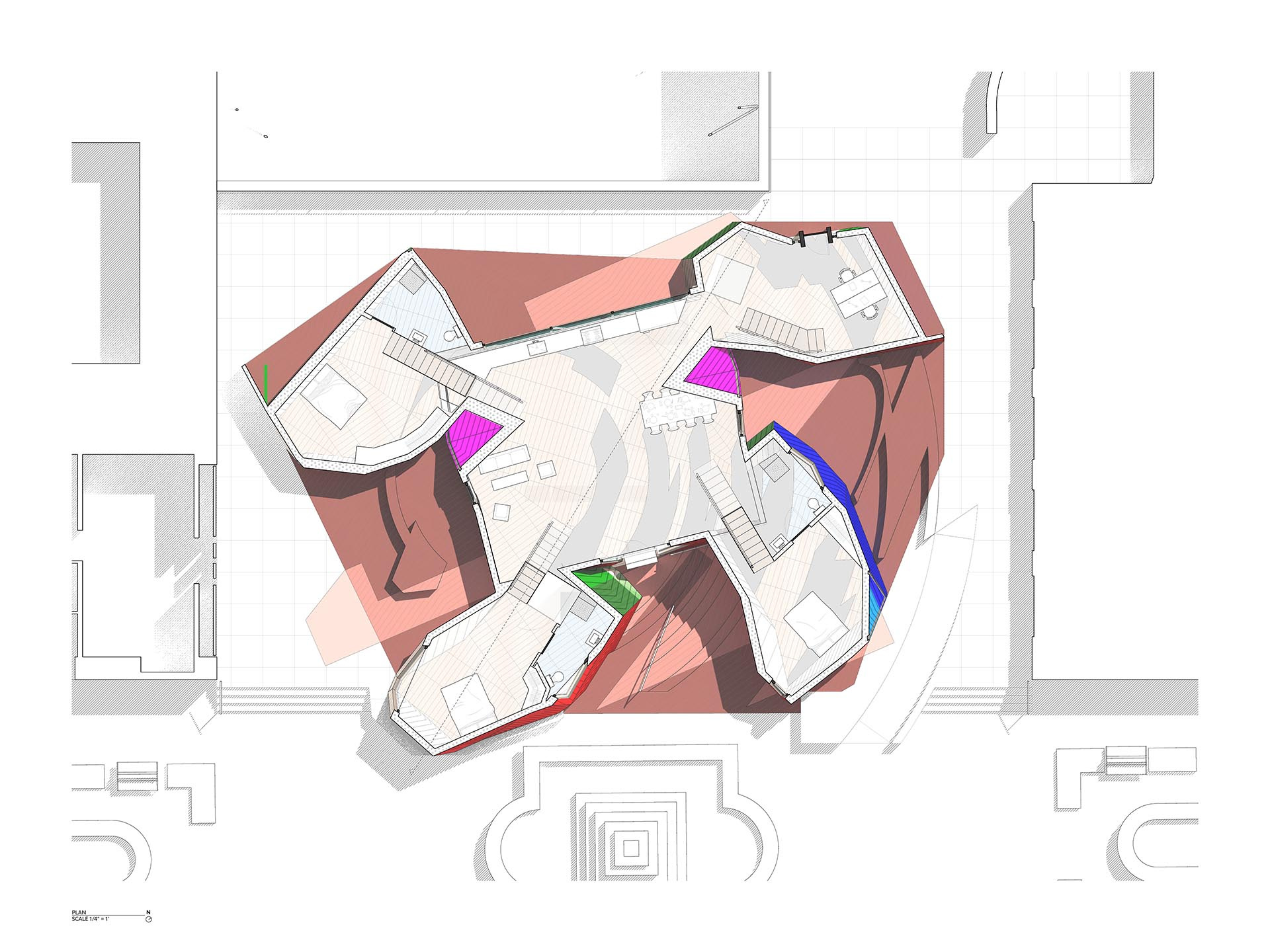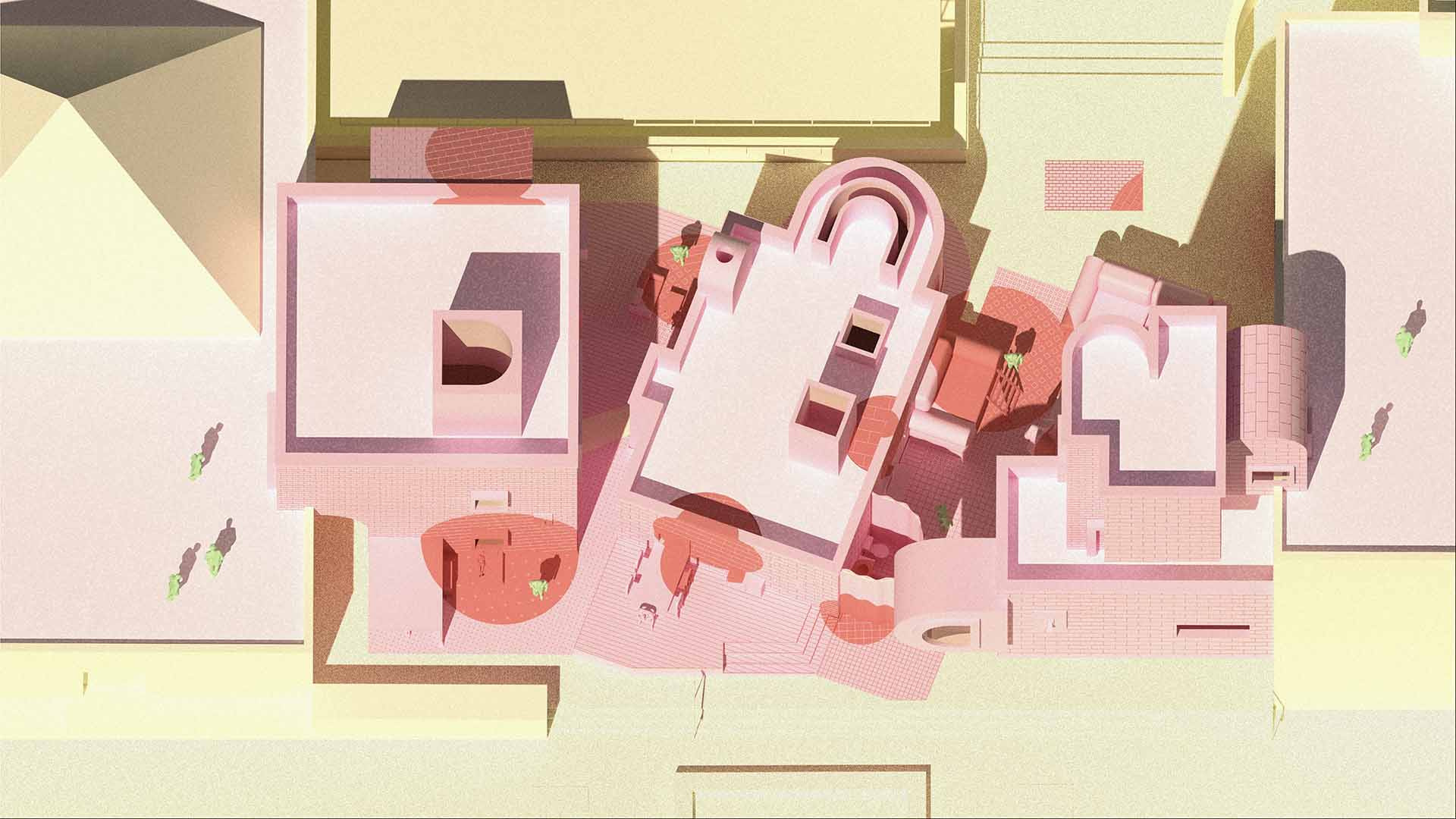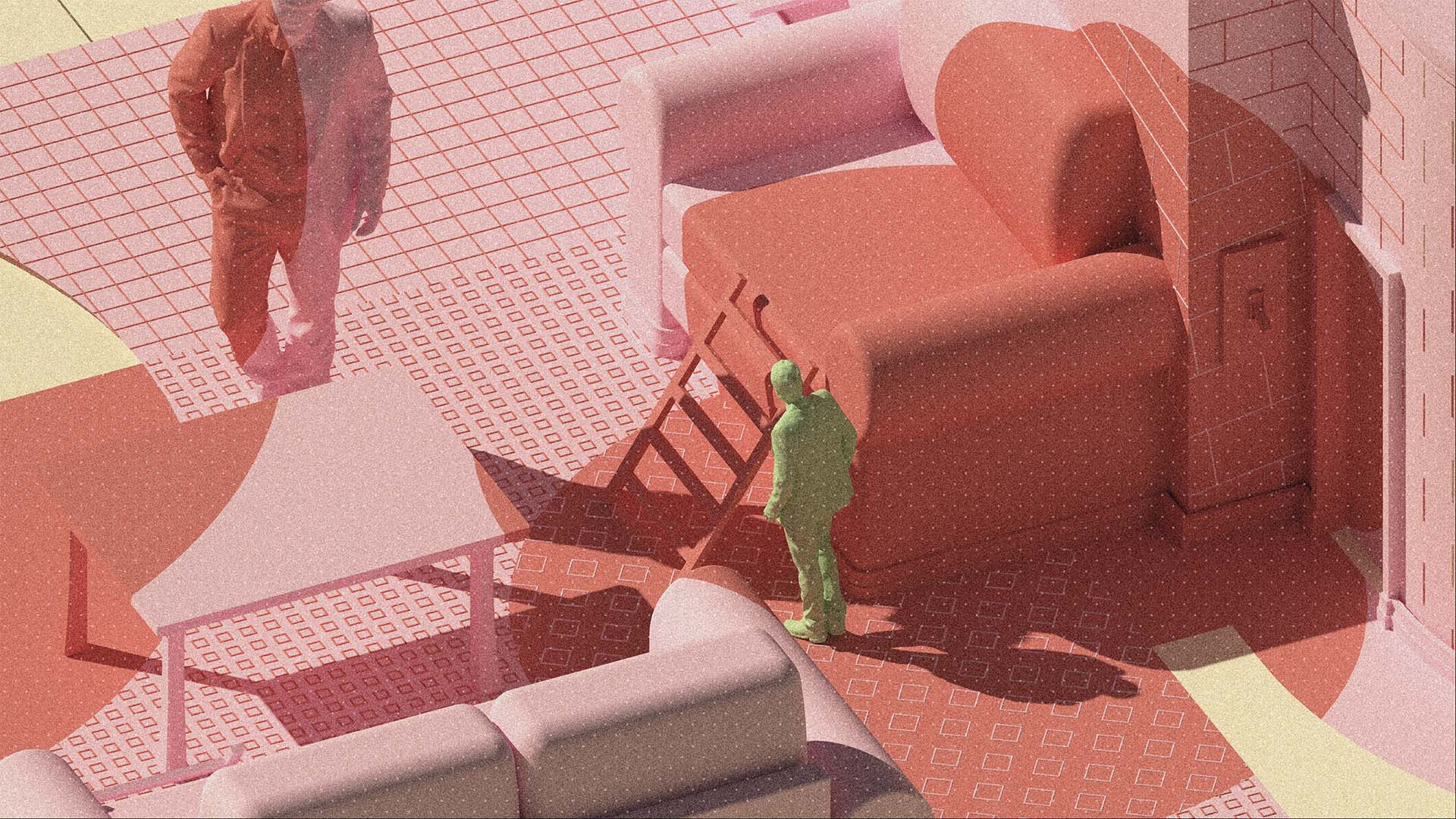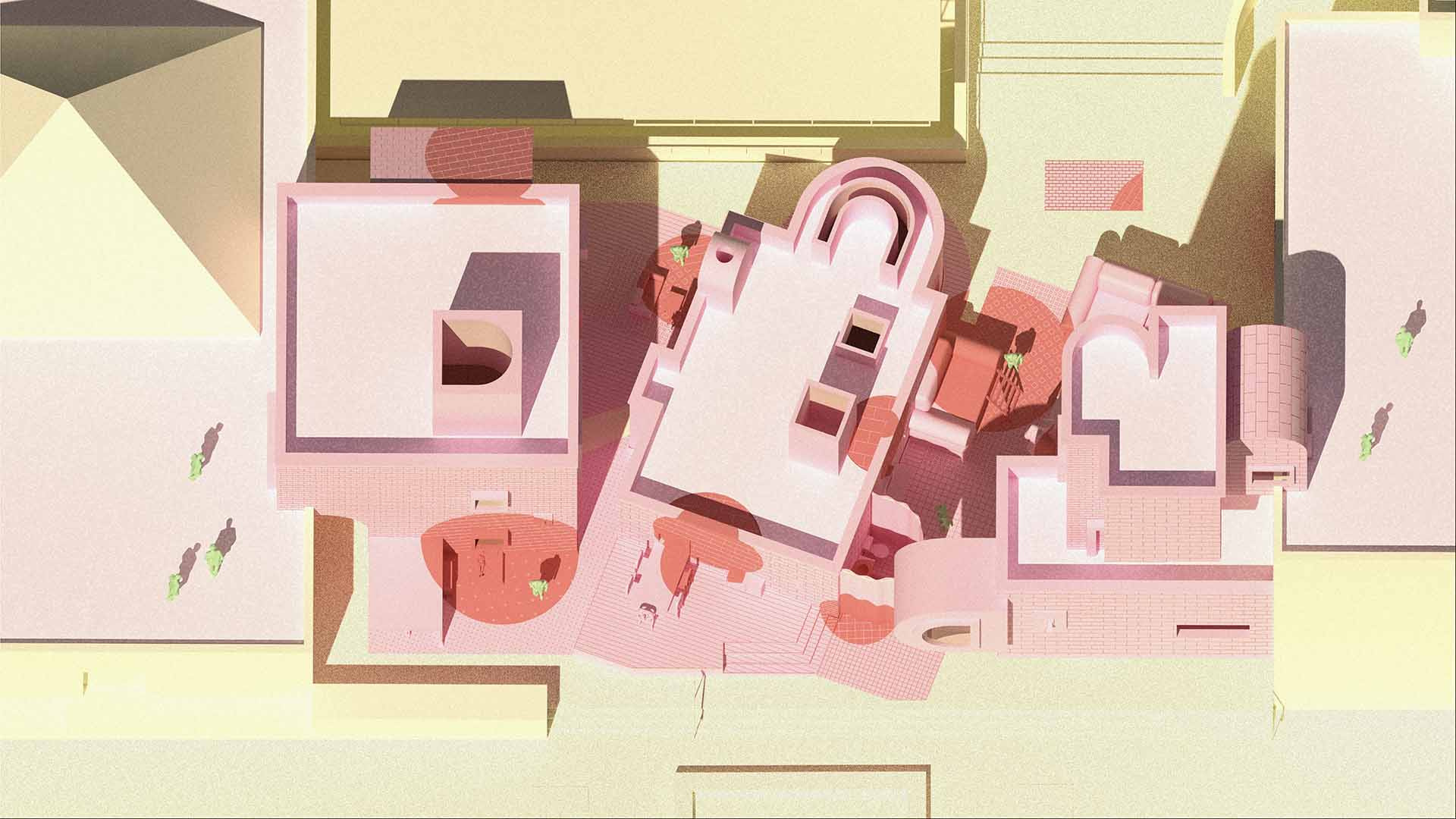 MOCA International Guest House


"A person in a room is looking out a window towards a house on a hill. The person can see the object of the house on the hill as architecture, as a physical entity with aesthetic qualities. The person could picture that house in her mind, as a concept, and understand it as architecture in her mind, as a concept, or the person could draw the outline of the house on the window and understand the representation as architecture. The debate historically has been whether architecture is the thing that happens in the mind, the thing that happens on the window, or the thing that happens on the hill." – Robin Evans

We use different models of ambiguity in architecture. We can also look at architectural software and tools as a vehicle for the production of uncertainty through techniques, method and procedures. In the end, architects use multiple readings as a productive tool for the development of design and decision making. In this studio we will be looking at both definitions of housing – something that covers or protects - as a progenitor for ambiguity and the production of an international guest house – housing as dwelling - for a local museum (MOCA) in Los Angeles.
More Information




There has been much debate on how architects should work on architecture today. In this studio we will be looking at two different approaches. First, we will be looking at examples of indifference within today's context. Architect Michael Meredith defines indifference as an architecture that performs and is defined by nondesign: the banal, generic, the unoriginal; the weak; the antidramatic, obscure referents, citations, and mashups; chance; the cheap; a focus on architecture's representation of itself, as opposed to realism.1 This type of approach has been proven a clever - simplicity is the ultimate sophistication - output for design. Second, we will be using advanced techniques to produce descriptive objects and exuberance: photorealistic renderings, figuration, descriptive form and shape, color, graphics, projection, boolean operations, volume, mass, accidents, playfulness, intricacy, decoration, a focus on the way things look and work formally. Student will work between these two different modes of production questioning if more is less or less is more. The studio will be broken into two (2) parts; Housing – covers or enclosure, and Housing – dwelling, domestic typology, house.





Housing - Covers or Enclosure

Looking at housing as a tool for enclosure, we will investigate and reimagine the housing facade. As a point of departure, students will be investigating the possibility of indifference and exuberance as a design tool. We will be using housing precedents to explore the opportunity of misaligning work for creative speculation. The facade will be used as a mediator between the interior and the exterior, function and form, and aesthetics and representation of the project. The plan will be used as a section, the section used as an elevation. We will blur the boundary between different modes of representation. Students will be asked to produce a 1/4" = 1'-0" model. This model should act as tool to help make design decisions during the housing (house) development of the project.

Housing – dwelling, domestic typology, house

We will be designing an international guest house for MOCA in downtown Los Angeles. The design should keep in mind the diverse needs, values, behavioral norms, physical abilities, and social and spatial patterns that characterize different cultures and individuals who might visit Los Angeles from around the world. We will be looking to ensure access to the house through a rigorous investigation of plans, sections and circulation. The program of the house is a single-family guest house with an additional program that each student will identify within their own project's context. We could call this the international guest house +. Students will have multiple site options to pick from. Each student is responsible for 3D modeling their own site with a high degree of information and detail.

1 Michael Meredith, Indifference, Again, Log 39. 2017




Woodbury ARCH 691




Instructor: Ryan Tyler Martinez





Students




Rand Alazawe
Andras Rosner
Demar Matthews
Genevieve Enriquez
Greg Fasss

Hitisha Kalolia

Krishna Jadawala
Mher Khachikian
Parsa Rezaee
Seda Petrosyan
Speter Mathew
Zhanming Liu



Full Resolution Studies



This studio used graphic standards, precedents, and building construction knowledge to investigate a close reading of domestic building elements as a progenitor for architecture. The goal of the studio was to allow students to be exposed to building construction methodologies while also creating a conceptual relationship between multiple forms of representation. We asked the students, "Instead of making a model that represents a building, can we make a building that represents a model?" Because there were limited resources for a building, the class focused on designing and building full resolution studies (FRS); studies that are bigger than a model but small enough to fit into a room. The studies are used as a proof of concept when resolving details, thickness, and tectonics at a larger scale by combining standard building components that one could purchase at a local hardware store.
More Information




The studio was broken into five main topics: frames, studs, surfaces, details, and finishes. Each of these topics were used in a chronological way; building onto one another. A primary focus was part-to-whole relationships as a tectonic and aesthetic strategy for making design decisions. The word tectonic is derived from the Greek tekton, which signifies carpenter or builder. Loosely speaking, it refers to how the different parts of a building are assembled or joined into larger structures. This opens up a problem for the concept of the tectonic between how a building appears (phenomenologically) to be put together in relation to how it is actually (materially) assembled from various manufactured parts. The class focused on domestic building tectonics such as light wooden frame construction, roofs, walls, doors, windows, bricks, plywood, tiles, siding, gutters, etc. These elements were used from concept to construction throughout the semester.


To achieve a blurred relationship between models and full resolution studies (FRS), students used graphic standers and graphic finishes at a 1:1 scale. Precedents like the supergraphics by Barbara Stauffacher and sculptures and paintings by Roy Lichtenstein were used as a tool along with the architectural work from MVRDV and Freddy Mamani amongst many others.The studio was broken into two main assignments; Tools + Techniques, Design + Drawing Sets, followed by a built Full Resolution Study (FRS).



Assignment 1: Tools + Techniques

At the beginning of A1, students selected a precedent project from either GA Document or DETAILS. A digital model of the precedent research along with orthographic drawings with dimensions, annotations, and information was used as a point of departure for the studio. Students were required to translate their research into the design of their FRS. Tilt up construction of plans and elevations were used to create volume and objects. Students negotiated representational flattening with material thickness as they worked back and forth between digital and physical models. Frames, studs, surfaces, details, and finishes were used along with domestic building elements such as doors, windows, walls, stairs, and roofs to combine a precise and cohesive FRS design.


Assignment 2: Design + Drawing Set

In the second half of the summer, students focused on finalizing the design of their FRS. Students worked in teams and produced a construction document set with a high degree of information. We looked at CD sets in class to get a better understanding of indexing and annotating sheets. Graphic design and graphic standards were used as a design tool to help bridge the gap between physical models and FRS. The FRS studies were placed on campus by the school of architecture buildings. Students were asked to propose a location before they started to construct their full resolution studies.





SCI-Arc VS 4201




Instructors: Ryan Tyler Martinez & Heather Flood




Students

Jaicob Andino
Oscar-Lucas Medrano
Meshari Alzughaibi
Cornelio Hernandez
Perez Jose Agredano
Reema Aljasser
Ibrahim Almayouf
Omar Alrajhi
Hamad Alshammari
Abrahim Alsimari


Sultan Altouri
Khalil Bin Sabaan
Lamont Burnley
Louiza Chilian
Khun Hein
Samson Levi
Peter Patpatian
Max Perez
Kimberley Molina
Rodney Yasmeh




︎︎︎︎︎︎︎︎︎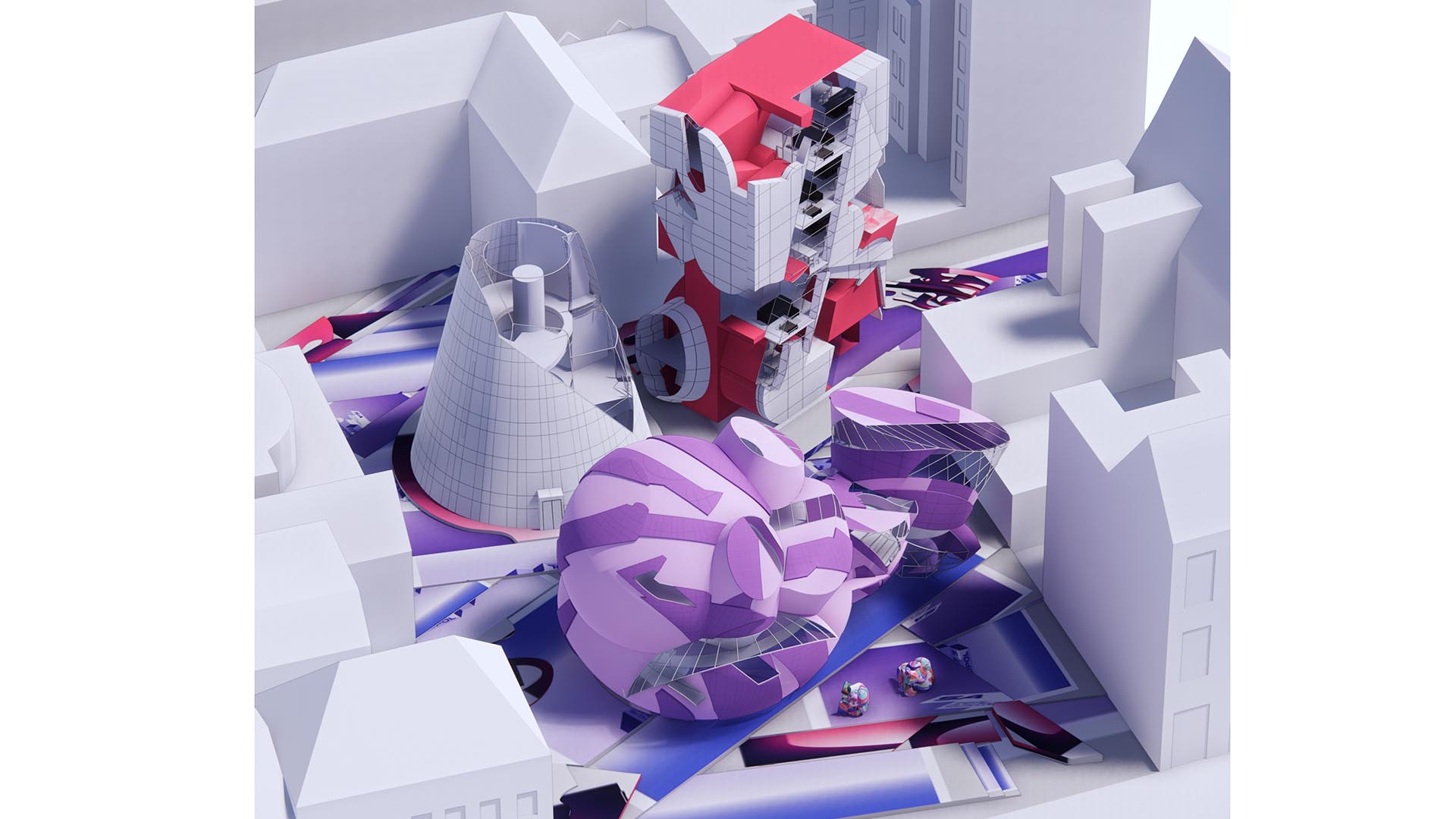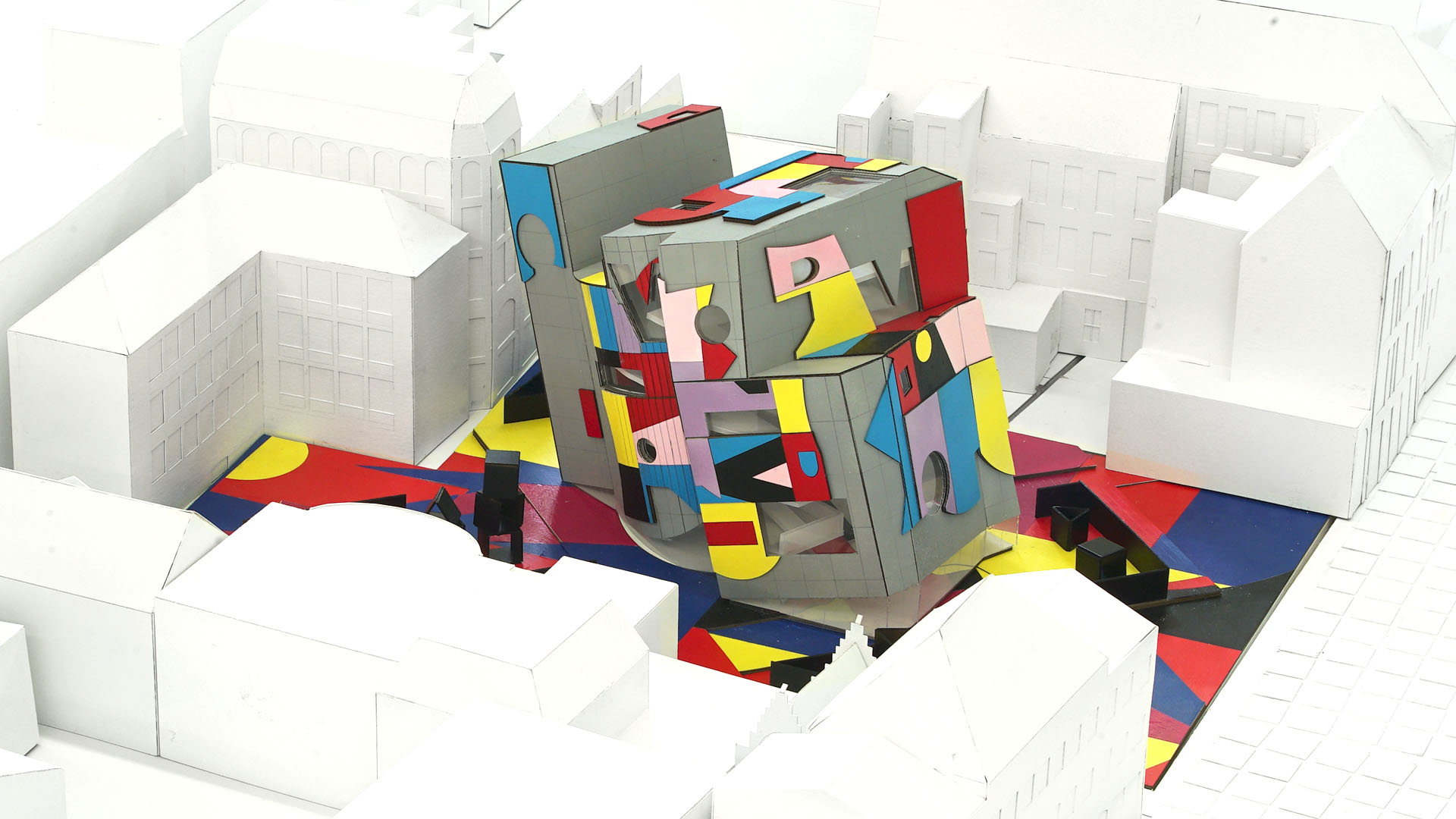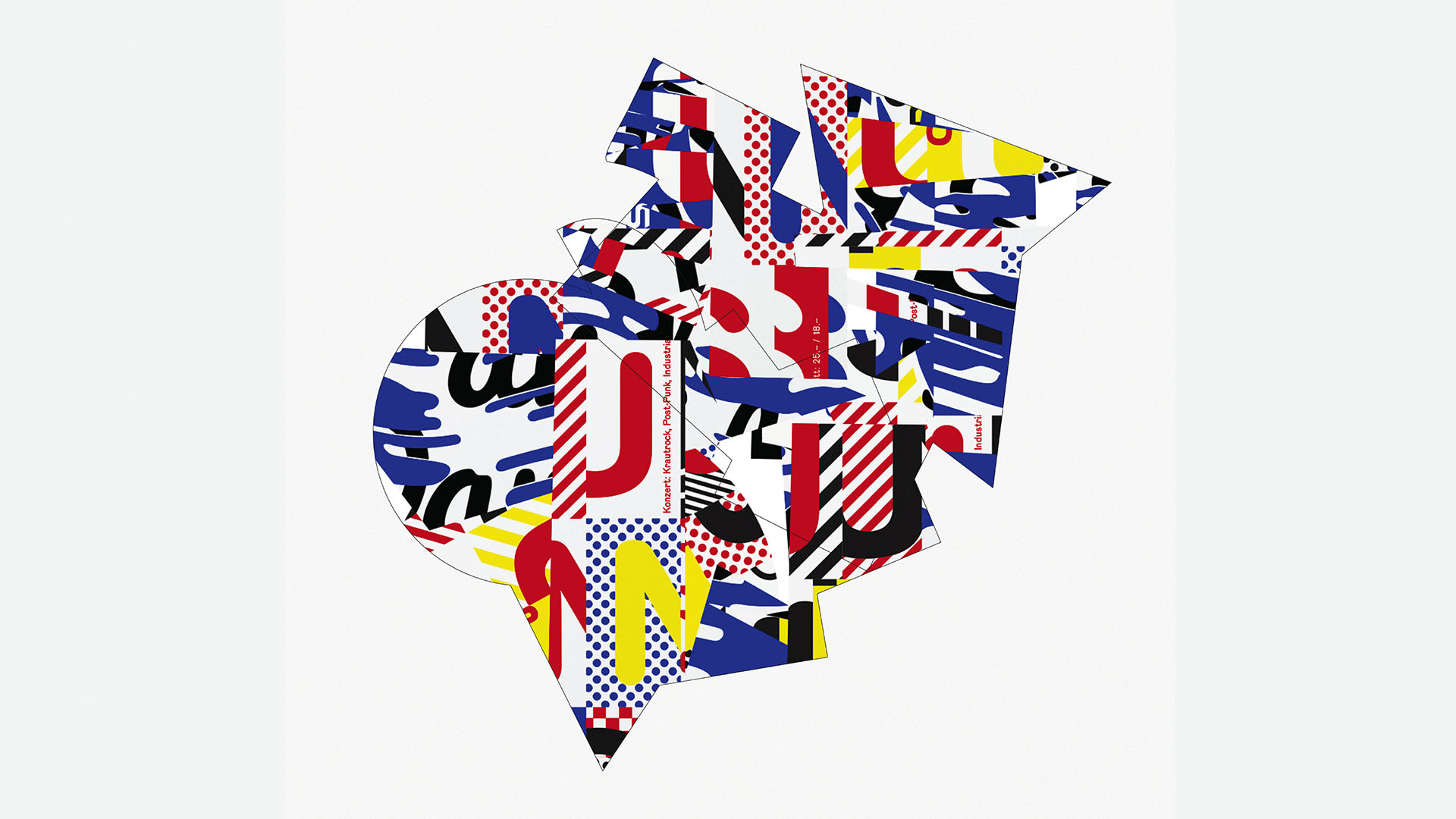 Graphic Galleries


"
Think of the work you do in architecture school: how much of it is printed, written, illustrated, diagrammed, photoshopped, collaged, animated, and ultimately presented. All graphic. Think of the buildings you know: how many of them are from books, magazines, catalogs, websites, blogs, collages, photographs, and, ultimately, drawings. Again, all graphic. You design, and you know, things primarily through their graphic representation."
- Michael Rock: Architecture in Print: New Approaches to Graphic Design


We make drawings, renderings, photographs, software, models, and films. Most of these outputs are turned into images and graphic representation. These graphic tools are used to help translate and communicate building ideas. But because so few of us get the opportunity to see our drawings translated into buildings, we invent and organize information about building ideas in folders, on paper, and through the use of physical models. One could say this is practice for a built project. But perhaps the act of this process is the project; a palimpsest obsession of graphics, representation and communication amongst all the parts.
More Information




This studio is interested in the graphic as a subjectivity for the work. The goal of the studio is to allow students to research the translation between two dimensional lines into three-dimensional shapes and form. We will be designing a contemporary art gallery in Antwerp, Belgium which should include housing for five graphic designers, a large open studio space for working, and interior and exterior galleries. As a point of departure, we will be researching and collecting work by contemporary graphic designers such as: Experimental Jetset, Studio Feixen, Common Name, among others. Students will be asked to create a graphic image based on their collected research. We will be using techniques of collage, translation, figure/field ambiguity, to create a graphic drawing tool for designing. The studio will be broken into two (2) parts; Site – Graphic Image and Program - Shape/Form.

Site – Graphic Image

The site is the home of Peter Paul Rubens, The Rubenshuis. Rubens, who was a well-known 16th Century Flemish painter also designed and built his own house in Antwerp, Belgium. Some historians debate which architectural style the house belongs too. Before building his house, Rubens was living and working in Italy as an architectural intern. When he returned home to build his house, the style of the Rubenshuis focused on both Belgium and Italian styles. We will be taking a similar approach to our project by massing up two different architectural styles. Students will be asked to research a non-contemporary architectural style that will help influence their own project throughout the semester. The use of site and context will be a secondary component within the studio. Students will be encouraged to look at the site as a drawing, focusing more on the autonomy of the work within the city and using the site as a canvas for experimentation and disciplinary misbehavior.

Program - Shape/Form

"The essence of architecture lies more in the drawings that depict the built form than in the completed buildings themselves." – Peter Cook, Drawing: The Motive Force of Architecture

Representation of work and the translation of that representation to buildings has been an ongoing discussion in architecture and will be a primary focus for the assignments and readings throughout the semester. We will also be reading text on architectural shape such as Hans Tursack The Problem with Shape and 12 Ways to Get Back in Shape by Bob Somol. We will be looking at the relationship between shape and form by reading Greg Lynn's Folds, Bodies, & Blobs. The program of the project should try and operate between both positions of shape and form and should be influenced by the "graphic" characteristics of the process.





Woodbury ARCH 491




Instructor: Ryan Tyler Martinez




Students




Carlos Lozano
Danila Shurinov
Destiny Garcia
Eduardo Morales
Elliott Dongxiong
Farzan Javaherchi
Gary Hu
Gerald Osuagwu
Grant Molsatd


Guy Blum
Isabel Rodriguez
Jesus Montes
Luis Perez
Miley Zhaoqi
Peter Iskander
Sohrab Pak
Zhen Wei




︎︎︎︎︎︎︎︎︎
Portraits of Shape and Form



In the past, "still life" has been the classical exercise of form and style that most of the artist had to perform to build their technical expertise. From the pedagogic discipline that teaches a student how to perfectly represent reality, "still life" has become the ground for critical differentiation of styles and for exploration of new tools. As a timeless instrument, this exercise measures the ability of the young artists against the previous generations of masters and frames their original research.
More Information




Similarly, to the Academy of Beaux Arts, this workshop will begin with a 21st century version of "still life". But this time the study will be conducted through the eyes of a graphic artist as opposed to those of a painter, and instead using conventional representational techniques, this class will explore the use of Rhino, Autodesk Maya, Adobe Illustrator and Adobe Photoshop. Reflecting this shift in current professional and academic discourse, the exercise will explore how the use of software redefines the concept of form. Students will be encouraged to think in terms of shape and composition, instead of abstraction and disproportion of parts. What once was an exercise of arbitrary style to present a given ensemble, it now returns to be a morphology experiment of fusion and proliferation.




This workshop will focus primarily on teaching students how to digitally model different types of formal and representational motifs with an emphasis on "graphic" finishes. We will be designing a digital still life of shape and form which will help students position and expand their understanding of building ideas such as surface, volume, texture, flatness, shape and composition.




As a point of departure, we will be looking at the work of Christian Rex Van Minnen. These images will be used as a foundation for developing skills in constructing drawings, rendering and polygonal modeling. The course project will allow students to learn multiple modeling, texturing and rendering techniques. Students will explore multi-platform workflows to develop fundamentals in polygonal mesh modeling and representational techniques. Students will learn techniques in Autodesk Maya, Rhino, Adobe Photoshop, and Adobe Illustrator.






SCI-Arc & BSSA
India Workshop




Instructor: Ryan Tyler Martinez




Students

Krishna Jani
Shikha Patel
Kshitij Mahashabde
Devangi Kansagra
Saloni Agarwal
Vishal Rohira
Charmil Shah
Geet Sampat
Anuj Modi
Flora Sheth
Anisha Mehta



︎︎︎︎︎︎︎︎︎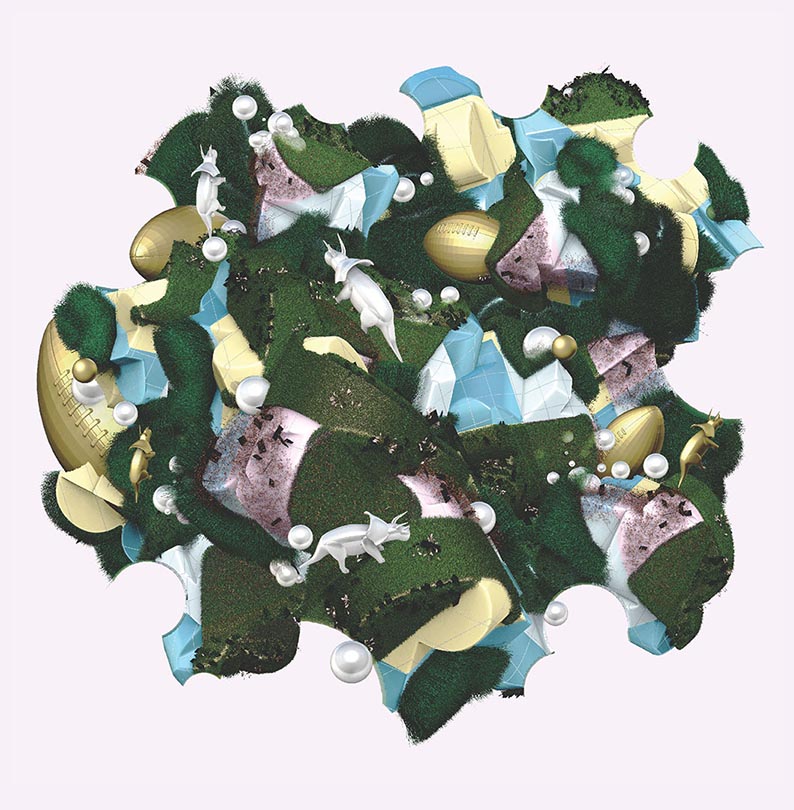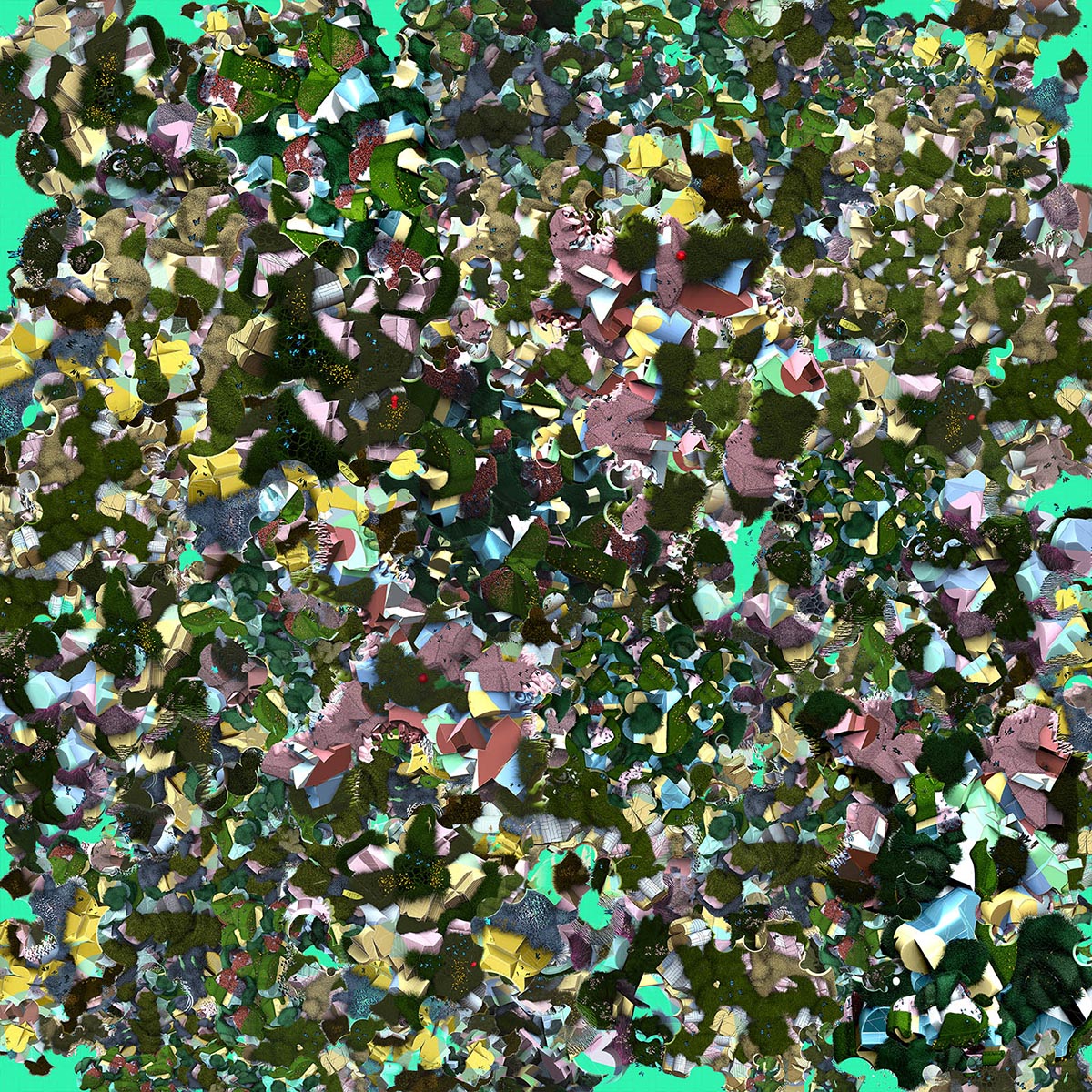 Big Picture

The 2GBX Visual Studies seminar is the second VS in the first year of the M.Arch II program. It introduces Processing, a flexible software sketchbook and language for learning how to code within the context of the visual arts, and advanced 3D modeling in Zbrush and Autodesk Maya for the production of architectural representation through the development of digital techniques. Beginning with the fundamentals of Processing, the course will examine the notion of "Regularity and Random", "Growth, Form, and Simulation", and "Emergence" in both two and three dimensions. Students will be required to constantly work between code and output, gaining familiarity with the constraints and advantages of the software. Later in the semester students will work in teams of two and will be introduced to XGen, a geometry instancer that lets you populate the surface of polygon meshes with an arbitrary number of primitives either randomly or uniformly placed. XGen lets you quickly populate large-scale environments, including grass savannas, forests, rocky landscapes, and debris trails. As a final deliverable for the class, teams will work with other teams to create large pictorial landscapes using the combination of their output from Processing, spherical envelope volumes in Zbrushand XGen surface textures in Autodesk Maya.
More Information




Architecture tends to point and communicate with itself through more than one final output. The drawing communicates to the physical model, the model talks to the text and the text specifies things in the drawing which helps understand the totality of the project. In some ways, "connect the dots" can be used as a metaphor to illustrate architecture's ability to associate one idea with another, to find the big picture in a mass of data and information. This notion towards connection will be a fundamental subject within the seminar. The class will be broken into four parts; Output (Data), Massing (Volume), Texture (Surface), Picture (Composition). These four parts and deliverables will be used to create a large pictorial landscape produced by teams and groups of teams within the class. Each of the four parts should act independent from one another but simultaneously be used in support towards the final "Big Picture" which will be due at the end of the semester.






Output (Data): A

t the start of the semester, students will be introduced to Processing, an open source computer programming language and integrated development environment (IDE) built for the electronic arts, new media art, and visual design communities with the purpose of teaching the fundamentals of computer programing in a visual context, and to serve as the foundation for electronic sketchbooks. Students will participate in three (3) all-day workshops (10am – 5pm) lead by Casey Raes. Students will be familiarized with the seven elements of coding, regularity and random, export image and geometry, as well as motion, growth, form, simulation and emergence.




Massing (Volume + Data):

Utilizing Zbrush, a 3D industry standard digital sculpting application, students will be asked to produce Flat-Horizontal and Spherical Envelopes through the aggregation of solid primitive geometry such as boxes, spheres, cylinders, cones, pyramids and letters. Building on the Output (data) produced in Processing, students will be asked to intergrade a specific characteristic from the workshop into their massing studies. These massing elements will be used as follies and garden ornaments for the student's landscapes but also as z-tools for the development of group loops and surface layering.




Texture (Surface + Volume + Data):

students will be asked to investigate and research Topiary Gardens as a surface treatment for their massing studies that will be used in their large pictorial landscapes. Using XGen to deploy grass, fur, vegetation, etc., the development of graphic gardens, field conditions, and intricate landscapes will be at the forefront of this assignment. Students should revisit their output (data) from processing for the making of interstitial spaces between volumes and ground, land and vegetation.




Picture (Composition + Surface + Volume + Data):

As a final deliverance for the class. Student will work in teams of 10-12 to organize and compose their individual assignments into one large pictorial landscape. Students will be responsible for collaborating with one another to have a seamless and well-thought-out composition.




SCI-Arc VS 4201




Instructors: Ryan Tyler Martinez & Casey Reas




Team 1




Julia Arnold




Asmaa Abu Assaf




Divyansh Agarwal




Swathi Devadas




Swetha Arunkumar




Raquel Bitar




Mariya Bandrivska




Alayna Davidson

Chen Chen




Sandy Liao




Guangyu Chen




Zedu Luo




Gun Srisawat




Siyao Zheng




Yucong Wang




Wanyu Yang

Team 2




Xingxing Li
Chi An Liao
Bobby Cheng
Weiti Wang
Yun Chu
Bohong Qiu
Samuel Flower
Adam Wells


Rhett Heuer-Rubalcava
Gabriela Ruth Zappi
Chengxi Hou
Liang Yu
Jiayin Wei
Like Zhang
Wei-Tse Yuan


Andres Gandara

Team 3




Yi Ning Lui
Akhil Mathew
Genki Matsukawa
William Maya
Zhou Zhang
Priyanka Patel
Jae Park


Gokay Sapan
Cisem Saglam
Jiekai Yi
Xiaogang Shen
Ji Wang
Juan Villarreal
Nikos Michelis




Manifesto

As a point of departure, the class will be looking at Programs and Manifestoes on 20th-century architecture and Sylvia Lavin's Architecture Beside Itself as a foundation for understanding film and manifestoes in architecture. Each student will be asked to produce a short film that will be presented at the end of the semester as a final deliverable for the class. The film will be broken into 6 parts, each part being assigned as a smaller project. At the end of class, students will combine the six parts into one film manifesto. We will be learning film editing software like Premiere Pro and After Effects and will be utilizing the SCI-Arc Robot House for filming physical objects like architectural models and props. Students will also be asked to purchase stock footage and photography that help support their Film Manifesto. The class will operate between short meetings and presentations in Keck and filming within the Robot House.

More Information




Students will be allowed to work in teams or individually. The course will be organized around weekly lectures given by the instructor and group conversations. Additionally, class will be held for technical skill building and filming with the robots in the SCI-Arc Robot House. During robotic filming, students should be well prepared and on time. Robot camera paths are due two days prior to filming sessions. Please refer to robot house standards for submitting files. A curated list of films will be shown throughout the semester to help expose students to different film treatments. Students will be expected to engage in conversations with the material shown in class. This class is not a software seminar; its goal is to generate a platform for speculation and investigation towards film and architecture. Students should think critically about the work and the conversations they produce.





SCI-Arc VS 2575




Instructor: Ryan Tyler Martinez




SCI-Arc Robot House Support: Curime Batliner & Jake Newsum




Students




Zhikai Chen
Michael Cheung
Andre Dassin
Jennifer Dow
Ross Fernandes
Yang He
Kordae Henry
Nikola Karnikova
Minah Kim
Kyunghyun Lew
Ruoya L
Yuhui Li


David Lini




Langaojie Ma
Cristina Macia Briedis
Yang Pu
Song Qiu
Dongwoo Suk
Eugenio Superchi
Simeng Wang
Yifan Wang
Zheng Xu
Mengyu Yu
Hongxuan Zeng
Zihan Zhang



︎︎︎︎︎︎︎︎︎︎
Fake Facades


This course is in response to the recent US political elections. According to critics, the use of graphic design and imagery during the 2016 campaign and its ability to misrepresent information and truth through fake news, image making, and exaggerations contributed to the spread of mass communication of information that over time changed the definition of those subjects correctness. During the post-2008 US election, Alejandro Zaero Polo wrote an essay in Log 17 titled, The Politics of the Envelope. This course is a prequel to similar notions of the building envelope and its role as a political tool for architectural representation. More specifically, the class has focused on further developing "spherical envelopes" as a surface problem for the 21st century. Investigating an effective link between graphics and architectural massing through the making of fabricated objects, distorted fields, and misleading surfaces, the class has focused on fakery and the artificial as a tool to create alternative narratives between the perception of exterior objects and interior volumes.
More Information




The class has analyzed examples of Fake Facades; graphic imagery that suggests additional architectural elements while also understanding the role of fakery in contemporary art history. We observed the proliferation of built projects that use graphic techniques to contribute or alter their existing form. Projects include Glass Farm by MVRDV, HL23 by Neil Denari Architects and Mountain Dwellings by BIG, among others. In addition to built projects, we have revisited contemporary art history works such as Yves Klein's Leap into the Void, Piero Manzoni's Artist's Shit, and Aliza Shvarts's MFA thesis at Yale University. The seminar invites the viewer to question the relationship between exterior objects and interior volumes as a conversation for architectural representation.





The class was asked to use "spherical envelopes" as a canvas for investigating Fake Facades. (See image above) The development of the 3D model is key to the construction of the final output. Students focused on the exterior surface only. Students develop illusion techniques that integrated windows, doors, façade geometry, and shadows with architectural graphics.





SCI-Arc VS 2594




Instructors: Ryan Tyler Martinez & Shawn Rassekh




Students:

Absalom Espinoza
Aja Zarrehparvar
Andrea Cadioli
Andrew Magner
Bingyi Li
Chih-Yi Kuo
Egil De Lange Kobberstad
Eleonora Orlandi
Eugenio Superchi
Evan Mason
Feng Wang
Francisco Tam Silverinha
Ge (Gloria) Wang
Hongxuan Zeng
Jennifer Dow
Jia Min (Rachel) Chen
Jose Garcia
Juan Cardenas
Langaojie Ma
Marius Laurinkus
Mengyu Yu

Minah Kim
Mohan (David) Lin
Paul Zhang
Qi Jia
Raul Casillas Soto
Ross Fernandes
Ruoya Li
Shao - Lun Chien
Simeng Wang
Song Qiu
Sunghyun Lee
Terrenece (Keenan) Shepard
Wing Lam (Fiona) Ng
Yang He
Yo Tomura
Yu-Heng Huang
Yuhui Li
YuJue Wang
Zheng Xu
Zhikai (Laura) Chen
Ziwei Wei



︎︎︎︎︎︎︎︎︎︎
Film Space



The objective of this seminar is to provide students with intellectually informed, hands-on instruction in the practice of filming techniques within the context of the SCI-Arc Robot House. This course is founded on the belief that film is one of many fundamental forces within SCI-Arc, and that one of the primary standards by which students and faculty are judged is the quality, creative freedom, critical insight, and formal and technical innovation of the projects they produce. This course is focused on a bottom-up design approach. Its primary goal is to help students develop an understanding of cinematography tools and techniques for representation and documentation purposes.
More Information




Over the course of the semester students will work in teams of 4 to produce a series of short film studies and experiments based on the weekly lectures. These lectures and assignments are organized into three primary categories: Setting, which will closely examine the collection, measurement, conventions, and limitations of assembling a film; Record, which will introduce issues of film movement, animation, and lighting; and Post, which with the previous two categories will begin extend the production of the film beyond simple documentation. All experiments and studies will be collected on a single hard drive.


Using the animatic as a framework, students will film pre-existing physical models that were made during other courses at SCI-Arc. These physical models should be used as objects of visual inquiry. The SCI-Arc Robot House will be used as a tool for developing techniques for filming. Each team or individual will focus on representing physical models within a digital environment. The course examines the significance of this relationship between the virtual and the physical.




SCI-Arc VS 2595




Instructors: Ryan Tyler Martinez & Matthew Au




Robot House Support: Curime Batliner
& Jake Newsum





Students

Austin Anderson
Ruy Jose Berumen
Esra Durukan
Austin Jacob Falk
Debbie Garcia
Jordan Hartman
Meghan Hui
Bryan Kobe
Joanna Kuchyt

Trenton Mays
Lucheng Pan
Dylan Perkinson
Sandy Sanchez
Pinar Seven
Kevin Sherrod
Emre Turan