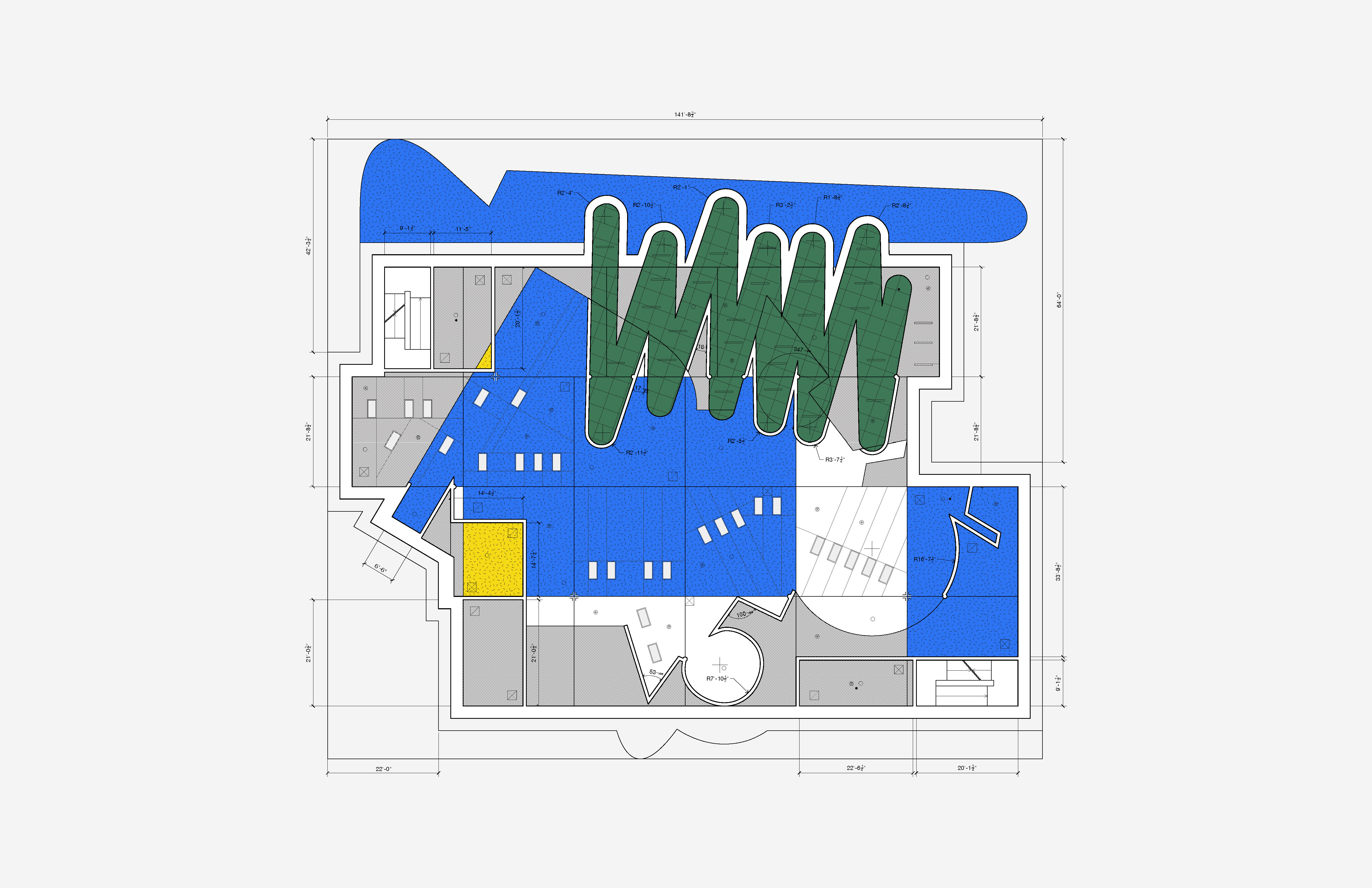 Construction, Abstracted: Painting Graphic RCPs is a representation project that examines the role of reflective ceiling plans (RCPs) as a tool to discover emerging questions of plan organization and abstraction in contemporary architecture.

There is a long history around the idea that painting (flat graphics), architectural drawing (technical, notational, based in linework and annotation), and material details are in conversation with one another. As an example, Colin Rowe and the painter-pedagogue Robert Slutzky looked more specifically at the relationship between abstract painting and buildings during the 20th century. (1) More recently, Mira Henry from Current Interests discussed the use of painting as a tool for colors and material specificity. (2) I am interested in contributing to this conversation through the production of "graphic-paintings" as a tool for architectural design. Currently, we are in a time when the drawing is becoming more of a secondary element for production. However, I think the most successful buildings look like drawings. I am interested in a conversation between graphic-painting's flatness and color, architectural drawing's technical authority and linearity, and materials (which have a thickness, are subject to gravity, and exist in 3D space).

My work tends to deal with graphic characters like shape, figure, form, pattern, color, and frame. Graphic design has been identified as the main deliverable in architecture even the work we do in architecture could be considered graphic design.(3) Printed drawings, thesis publications, photographs of models, websites, digital presentations are all graphic. Even the final deliverable in the profession of architecture, the construction documents, I consider being a type of graphic design. However, as Michael Rock at 2x4 once said, "But while there are clear parallels between the two disciplines, they remain divided, the border between them heavily policed and jealously guarded". My work is interested in blurring the boundaries between these protected and jealously watched disciplines. I am interested in graphic-paintings as a progenitor for architecture.



(1) Rowe, Colin. Slutzky, Robert. Transparency: Literal and Phenomenal. Transparency. 1st ed., Birkhäuser Architecture, 1997.

(2) Henry, Mira. "Lectures, Interviews, Exhibitions." Wedgegallery.Woodbury.Edu/, uploaded by Wedge Gallery, 8 Mar. 2021, wedgegallery.woodbury.edu/Current-interests.

(3) Rock, Michael. "Architecture in Print: New Approaches to Graphic Design." 2x4.Org, 2016, 2x4.org/ideas/2016/architecture-in-print-new-approaches-to-graphic-design.

Project Name

︎︎︎ Construction, Abstracted: Drawing Graphic RCPs




Medium

︎︎︎ ink, paper, acrylic, oil, velcro, on sewn canvas



Location

︎︎︎ Art Omi, Ghent, NY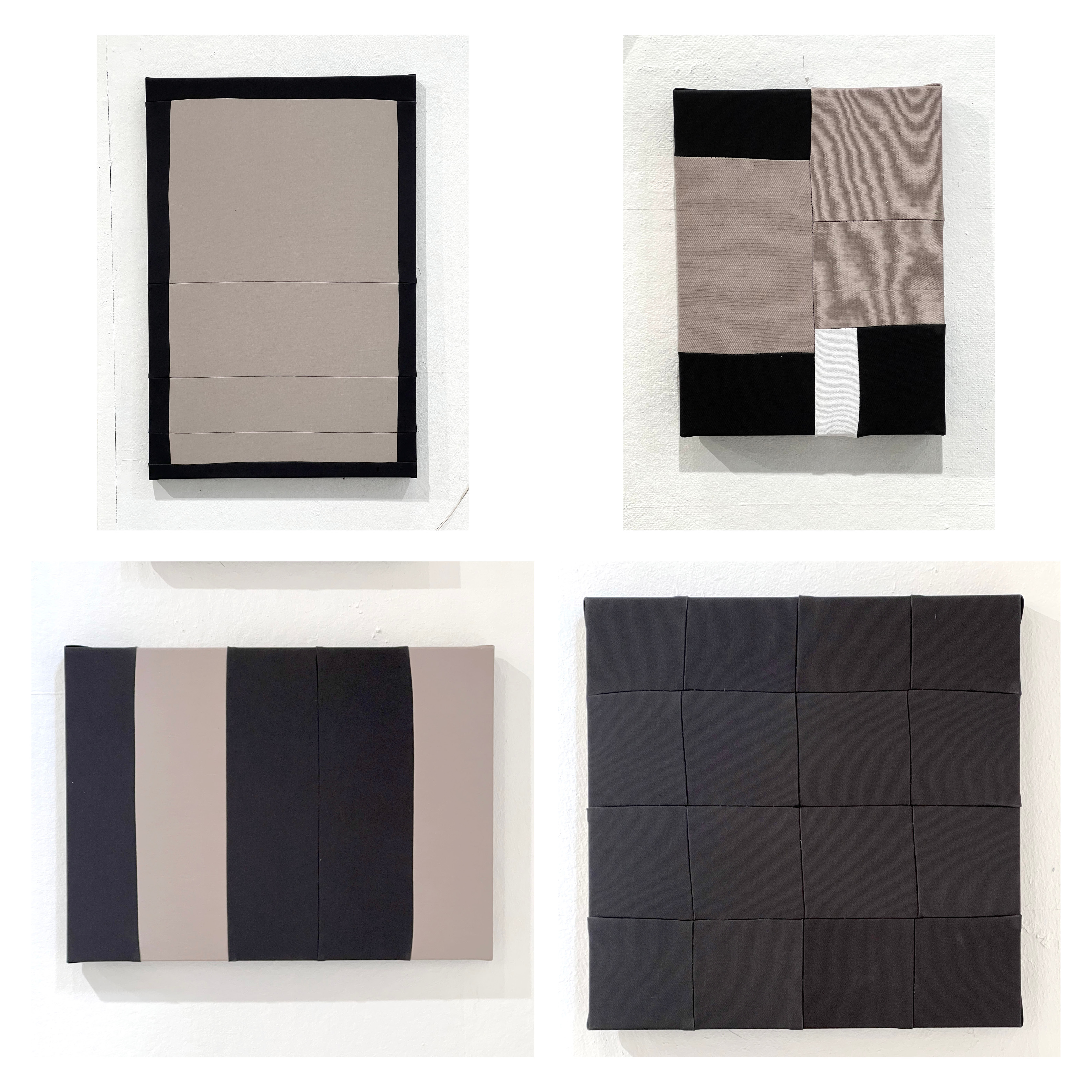 This project specifically examines the reflective ceiling plan as a compositional tool. There seems to be a gap between the representation that exists in construction documents and a finished building. First, we never experience a built project through an orthographic view. Second, there is a lack of authorship in a construction drawing set; colorless lines, graphic standards, annotations – most of which never find their way into a building. Perhaps we should take a closer look at the construction document as a conceptual project and not just as a tool to produce a project. The architect's decision to use RCPs is out of necessity for construction, therefore there has been little debate on how we might use reflective ceiling plans as a tool for disciplinary misbehavior. Here, I define "graphic" not just in the sense of flatness, but as a strategy for misreading graphic standards in construction documents. Return air, supply air, occupancy sensor, lighting and data collection, smoke detectors, ceiling-mounted downlights, fire sprinklers, light fixtures, and exit signs are represented as graphic symbols within the RCP. Can we use these practical elements for new plan organizations and abstraction? In this post-digital turn focusing on constructability, the RCP acts as a bridge between speculative possibilities for representation and traditional mediums in practice.
---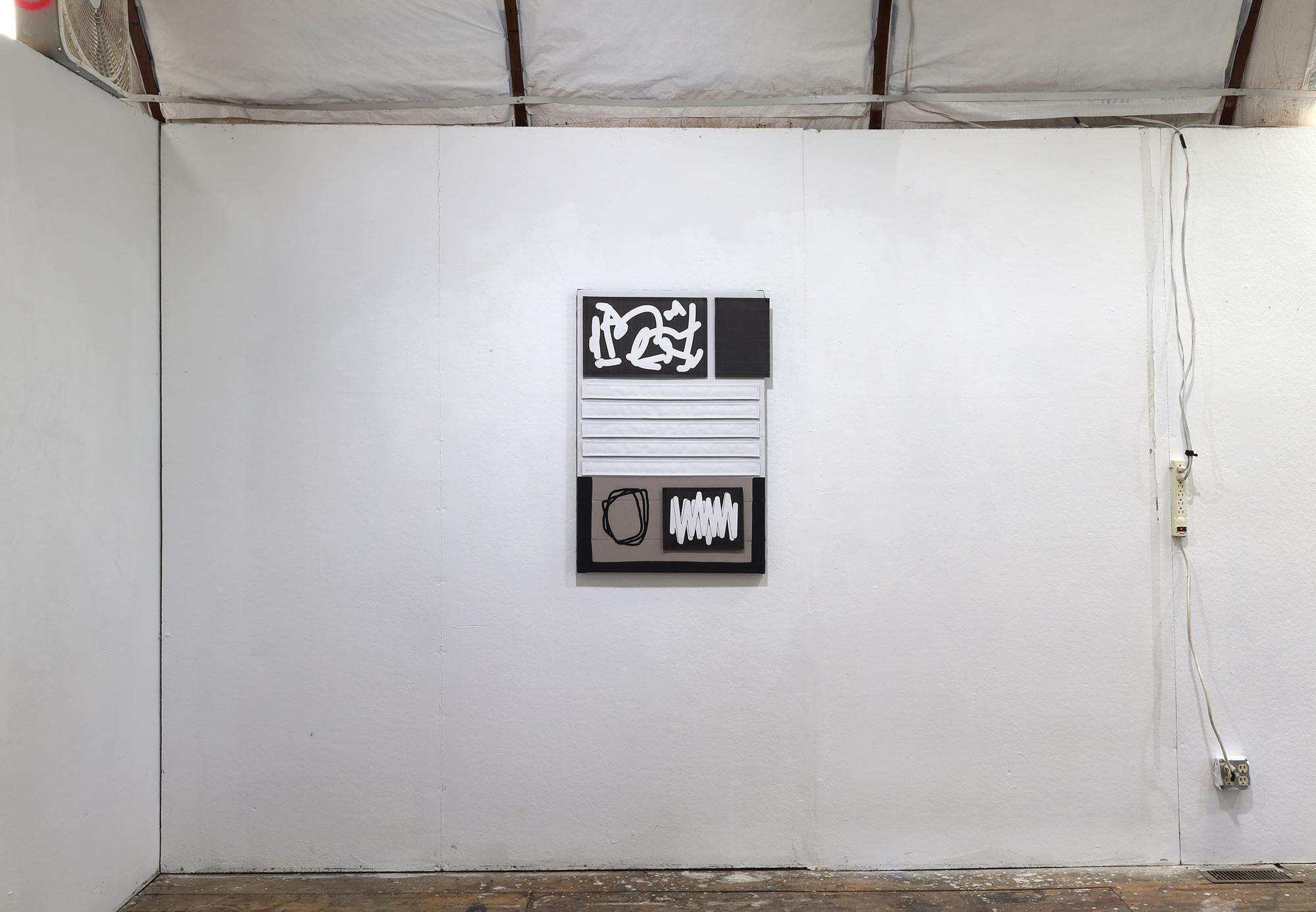 There is a wealth of conceptual discourse within experimental architecture on the role of the plan in the design process. However, the RCP is rarely discussed in these conversations. The reflective ceiling plan is a plan, but it belongs to the discipline as a tool for construction and not as a tool for legibility of space, program, and organization. Challenging the black and white construction document, this proposal is interested in working with color, line weight, flatness, composition, figure, frame, shape, and pattern.
---
Process diagrams - fonts to figurees
---